Plea to help elderly as freeze continues in Shropshire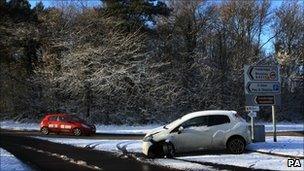 People in Shropshire have been urged to make sure vulnerable neighbours have essential supplies as sub-zero temperatures continue.
West Midlands Ambulance Service asked residents to make sure elderly, frail and other vulnerable people did not have to go out in icy conditions and risk hurting themselves.
Meanwhile, Arriva said bus services on the main routes would be running. And London Midland said it planned to run a full Sunday timetable.
Temperatures in Shawbury, Shropshire, hit -20C overnight.
Temperatures in the region were set to range between -1C and -15C on Sunday.
The Met Office has renewed its warning of severe weather across the West Midlands region.
It said there was a continued risk of widespread ice on untreated roads and pavements during Sunday and Monday.
West Midlands Ambulance Service urged people not to travel on "treacherously icy roads" unless necessary.
A spokeswoman said roads in the region were "littered with abandoned vehicles following the significant snowfall".
She added the service had seen many examples of community spirit over the past few days.
"We would appeal for people to be aware of those who are elderly, frail or in some way vulnerable to this type of weather condition whether they are friends, neighbours or relatives," she said.
"Why not show some community spirit and ensure that people in these categories do not have to go out and risk hurting themselves by getting in any essential supplies that they might need."
The service, which saw its busiest day on Friday since regional records began, also urged people to use the service wisely so it could best serve patients with serious and life-threatening injuries.
Snow is continuing to cause travel problems across the UK.
The region's motorway network is open, including the M5 which saw long delays on Saturday, but many small roads are impassable because of snow and ice.
Some flights at Birmingham Airport have been cancelled or delayed because of snowy conditions.
Travellers were urged to check the airport's website and with their flight operators for details.
Related Internet Links
The BBC is not responsible for the content of external sites.