Flight delays at Birmingham Airport as freeze continues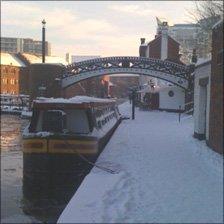 Some flights from Birmingham Airport remain delayed or cancelled as the adverse weather conditions continue.
Passengers were urged to check the airport's website or with their flight operators ahead of their journeys.
One woman, who was travelling with her family to Islamabad, Pakistan, said they had been waiting on the tarmac for more than five hours and were not allowed off the airplane.
An airport spokeswoman said the flight was scheduled to leave at 1639 GMT.
The Met Office warned of icy roads and pavements in the West Midlands region.
Marium Hussain, from Solihull, was among passengers who spent the night at Birmingham Airport after her plane was grounded because of the snowy weather.
Ms Hussain said they eventually boarded the Pakistan International Airlines (PIA) flight at 0930 GMT but were still waiting on the tarmac at 1530 GMT.
She said: "This holiday that we were going on is actually turning into a nightmare.
"They are not letting us off the plane, they've shut the doors."
Ms Hussain, who is travelling with family members, including her 90-year-old grandmother, added: "We are sandwiched in this plane and have no idea how long this terror is going to last."
PIA said the adverse weather conditions had delayed the flight.
Birmingham City Council said roads had been gritted but temperatures as low as -9C were "hampering the effectiveness" of the salt.
Gritters returned to the streets about 1500 GMT, a spokesman said.
The council said roads around the city centre were running pretty well and staff were clearing and gritting footpaths to help residents and trade on one of the busiest shopping days of the year.
National Express services into the city were operating as normal, but passengers were urged to check with the operator before departure.
Meanwhile, London Midland said it planned to run a full Sunday timetable. Virgin Train services were running but people were warned to expect delays.
Chiltern Railways said it would be running an emergency timetable because of the conditions.
Passengers were urged to check its website or telephone National Rail Enquiries.
And West Midlands Ambulance Service urged residents to make sure elderly, frail and other vulnerable people had essential supplies and did not have to go out in icy conditions and risk hurting themselves.
Related Internet Links
The BBC is not responsible for the content of external sites.