Shrewsbury pub-fire 'wiring fault' suspected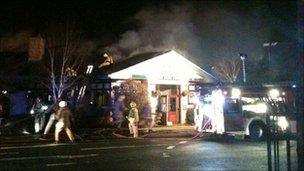 An electrical fault is believed to have started a severe fire at a pub in Shrewsbury.
Ten customers were evacuated from The Beaten Track in Old Potts Road, at about 2230 GMT on Tuesday when a bar worker reported smelling smoke.
Staff along with a man and three-year-old child who were asleep in the flat above the pub were also evacuated.
About 50% of the building was damaged by the fire which was put out by 0055 GMT, Shropshire Fire Service said.
Pub manager Beverley Nicholls said: "We're just gutted, you go through robberies and all sorts but you never anticipate a fire.
"Christmas has been a bit of a let down anyway, because of the weather people don't want to risk slipping on the ice.
"It's been a really bad end to Christmas."
Shropshire Fire and Rescue Service investigators said they suspected the cause of the fire was an electrical fault.
Related Internet Links
The BBC is not responsible for the content of external sites.