Five-time Shropshire cancer patient honoured with CBE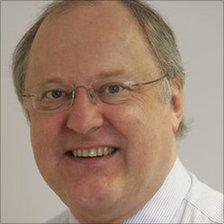 A man who was diagnosed five times with a recurring form of cancer has been appointed CBE for his prolific work helping other cancer patients.
Roger Wilson, 64, set up Sarcoma UK in 2003 to support sarcoma patients with a rare form of connective tissue cancer.
The former BBC assistant producer and film maker from Shropshire said he never dreamt he would be recognised in the New Year Honours list.
His wife Sheelagh said his real reward was knowing others had been helped.
Mr Wilson, of Chelmick, near Church Stretton, has had five cancer diagnoses in 10 years.
He was first diagnosed with a soft tissue sarcoma of the lower leg in 1999 and underwent extensive surgery and chemotherapy.
Despite being in remission for seven years the cancer returned and he had his left leg amputated to just below the knee.
In December he was diagnosed with a new sarcoma close to the site of his amputation and is awaiting further surgery.
Mrs Wilson said: "Each new diagnosis he has dealt with positively and bravely, which has really helped me as his carer.
"His attitude is 'let's get this out of the way and then see how we can move forward'."
The father-of-three set up the charity and The Sarcoma Trust to help improve awareness for patients and their families about sarcomas which affect less than 1% of all patients diagnosed with cancer.
At the time he said there was very little information available either in print or online about sarcomas. The two charitable organisations now have up to 30 people working for them to set up support groups and are in contact with 800 patients or carers across the UK.
Mrs Wilson said "I am so proud. The honour is a great tribute to him, especially when you think he has achieved all of this, whilst being a patient himself.
"When he got the letter he was very humbled and emotional. He doesn't like the focus on him. He has only ever wanted to help other patients and that is what drives him, the thought that his research could be helping someone else."
Mr Wilson told the BBC: "It's not something I ever expected.
"To realise that people thought enough of me and what we have done over the last seven or eight years, to put us forward for this honour, is just an astonishing feeling."
Sarcoma UK and Sarcoma Trust are just two health organisations Mr Wilson is involved with. His other roles include advising the National Cancer Director Mike Richards on the government's cancer reform strategy and being on the board of the Cancer Research Institute and a patient representative for the NHS.
Related Internet Links
The BBC is not responsible for the content of external sites.