Telford and Wrekin Council outlines budget cut plan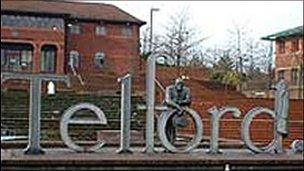 A council is proposing to cut subsidised travel, repairs to street lighting and environmental maintenance as part of £15m savings in 2011.
But Telford and Wrekin Council said it would continue to fund major regeneration projects and its school building improvements programme.
It is also proposing to freeze council tax.
The plans will be debated on 11 January followed by a public consultation before they are finally agreed.
A spokesman said the authority had been preparing to face cuts to its budgets of about £25m and had started a programme of reviews in 2009.
Council leader Andrew Eade said: "Our priority is to deliver the services that the community tell us are most important - such as new schools, continuing the massive regeneration we have begun across the borough and boosting services for the most vulnerable members of our community."
Services likely to be looked at include an extension to the switching off of street lights in non-residential areas, a review of transport services and the provision of school milk provision in primary schools.
Mr Eade said the number of senior management posts on the council has also halved from 28 two years ago to 14, generating a saving of £1.75m per year, according to the authority.
Related Internet Links
The BBC is not responsible for the content of external sites.