Shropshire Council announces plan to close nine schools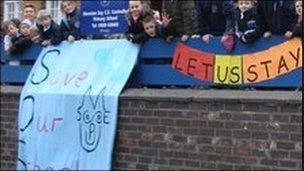 Shropshire Council has announced plans to close nine schools.
The plans include closing one secondary school and six primary schools and two amalgamations which would result in the closure of two more primary schools.
Under the plans, 20 primary schools will also be federated, which would mean they would share governors and resources with neighbouring schools.
The plans will be discussed when the papers go to a meeting of Shropshire Council's cabinet on 15 February.
As well as the closures, Buntingsdale Infant School, in Tern Hill, would be expanded into a primary school.
The amalgamations would see Ifton Heath School closed and Rhyn Park turned into a school for three to 16-year-olds.
Shawbury School would also close but St Mary's School, also in the village, would be relocated onto the site.
Councillor Aggie Caesar-Homden, Shropshire Council's cabinet member for children and young people's services, said: "I want to stress that at this stage no decisions have been made about the future of education in the county.
"This has been a cross-party project, with all political parties working together to look at education in Shropshire.
"We all recognise the need for change and for long-term solutions that will provide Shropshire children with excellent education for years to come."
She said that if the cabinet agreed to proceed, consultation on proposals for any changes will start on 28 February 2011 and will last for six term-time weeks.
Sue Cooke, head teacher of Stiperstones Primary School, said staff were "anxious" about the proposals.
She said: "We've developed a lot of community cohesion which we feel is all being undermined by the many cuts that we have to face.
"We understand that the council has to save money but we feel disappointed that we've been chosen as one of the school's for closure.
"The staff are all very upset and feel anxious about their futures."
Related Internet Links
The BBC is not responsible for the content of external sites.