Students vow to save Wakeman School in Shrewsbury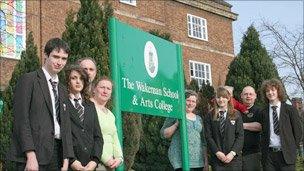 Pupils at Wakeman School in Shrewsbury, which is threatened with closure, are vowing to fight to keep it open.
It is the only secondary school in Shropshire affected by the proposals announced by Shropshire Council on Tuesday.
With 406 pupils, the Wakeman is also by far the largest school on the closure list.
Pupils at the Wakeman schools said they would join a Stop the Cuts march on Saturday, 19 February.
Mathew Davies, 16, who has been at the Wakeman for five years said the school was worth saving: "Over the past five years so much has changed and so much has improved.
"When I came here as an 11 year old I was a nervous, shy boy and now I am a totally different person because of what the school has made me."
He said the pupils had come up with a slogan for their campaign "WWW - Why Waste Wakeman?"
"How can you close a school that's had £4m invested over the last decade?," Mathew said.
Gemma Exelby, who is 15, is head girl at the school.
She said it had made a big difference to her life: "Now I think I am a very confident person. I'm not shy any more. That's all down to this school."
She said she was not convinced by the economic argument: "It's hypocritical, the fact that the council want to save money and yet they're just chucking a lot of money down the drain."
Fifteen-year-old Sammy Parkhurst said pupils would be joining the march through Shrewsbury.
"We are going to do whatever we can to get it out there that Wakeman is just not shutting."
Related Internet Links
The BBC is not responsible for the content of external sites.