Arson-hit Osbaston House images posted online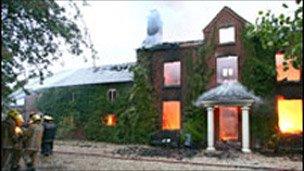 A call has been made for the demolition of a burnt-out house where a man killed himself and his family, after images of it appeared on the internet.
Christopher Foster, his wife and daughter died at Osbaston House in Maesbrook near Oswestry in 2008.
Police found three people taking pictures of the ruins last month.
Councillor Arthur Walpole condemned the online posting of pictures of the burnt remains of cars, furniture and clothing.
Mr Foster, 50, a failed businessman, shot his wife Jill, 49, and his daughter Kirstie, 15, before setting fire to the house and killing himself.
Mr Walpole, Conservative councillor for Llanymynech, said the tragedy was still very fresh in the minds of local people.
"We can understand that people would be curious about what happened there but this seems to go way beyond that.
"They are invading the privacy of this family and it is an intrusion into the local community."
Mr Walpole said souvenirs had been stolen from the house: "I think the concern is that this will continue to happen as long as there are buildings remaining on site and artefacts there. Therefore the answer must be to demolish the buildings."
He said he would be speaking to the agents looking after the site.
Chris Mitchell, from Lincolnshire, was one of the people who took photographs at Osbaston House last month.
He said he was unaware of the history when he went there: "We just thought it was a burnt house and we were taking random pictures. We got home and researched it and found out what had happened. We were pretty shocked."
Mr Mitchell said the pictures had been posted on the Urban Exploration website which specialises in images of abandoned and derelict places.
He realised that some people would be upset by the photographs but thought others would want to remember what had happened: "I did put on the website if people have questions or any issues they can email me.
"If someone does want me to take them down, then I will."
The company looking after Osbaston House, GVA Grimley, told the BBC: "We are looking into these recent reports of trespassing with our appointed security contractors to ensure the security measures are sound."
Related Internet Links
The BBC is not responsible for the content of external sites.