Protests in Shrewsbury over hospitals shake-up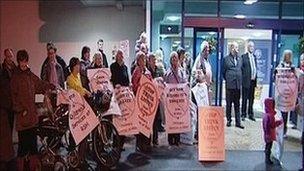 Hundreds of demonstrators turned out at a public meeting in Shrewsbury about proposals for a shake-up of services at the county's two main hospitals.
The protesters gathered outside Shrewsbury Town's football ground.
More than 300 people packed into the meeting on Friday to discuss moving children's and maternity services from the Royal Shrewsbury Hospital to Telford.
Shrewsbury and Telford NHS Trust said the plans were in patients' interests.
Under the plans announced last year, the trust would move the main maternity and in-patient paediatric services to Telford's Princess Royal Hospital, along with the obstetric and neo-natal intensive care unit.
Head and neck services would also be based at the hospital.
A midwife-led maternity unit suitable for low-risk pregnancies and acute in-patient abdominal and vascular surgery would be based at the Royal Shrewsbury Hospital.
Caron Morton, chair of Shropshire's GP Consortium, said the changes were needed.
She said: "I think we all recognise that we face difficulties with our current healthcare provision.
"We need to move to single sites for most of our services so we can ensure that we can continue with providing high quality care for the patients of Shropshire."
But she added they were listening to patients' concerns and would use the feedback they received to analyse any risks that could be created by the moves.
Related Internet Links
The BBC is not responsible for the content of external sites.