Report finds lack of River Severn life buoys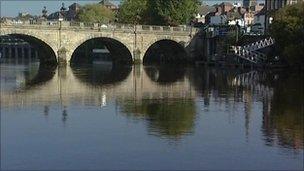 There is a lack of life buoys along 'high risk' stretches of the River Severn in Shrewsbury, a report for the council has revealed.
The report, written by Mouchel Ltd in September 2010, was obtained by a BBC Freedom of Information Request.
Firefighters and police have previously given warnings about stretches of the river after a number of fatalities.
The report concluded most paths are low risk if factors such as alcohol and bad weather are not taken into account.
The report identified the high risk areas to be around Victoria Quay and Porthill Bridge, close to bars, pubs and restaurants.
Another high risk area is St Mary's Water Lane, a well-used route to and from the town centre.
The report said there were insufficient quantities of life buoys along both stretches with some of the St Mary's life buoys being put in unsuitable positions.
It also said a vertical drop from the riverbank at St Mary's posed a risk to those using the path in the dark.
Concerns over the number of deaths in the River Severn led police, local churches and a security firm to set up a new pastor scheme in Shrewsbury town centre.
Twelve volunteers look after vulnerable people and make sure they are reunited with friends and get home safely.
Police said 23 people had drowned in the river in six years and some of the deaths had been alcohol-related, with most of the deaths being in the Shrewsbury area.
Tim Sneddon, head of environmental maintenance at Shropshire council, said land along the river was managed by various landowners and several safety awareness schemes had been implemented.
"We've also done many physical things to increase safety along the riverside such as installing new life buoys, and we're now looking at longer-term measures," he said.
Related Internet Links
The BBC is not responsible for the content of external sites.