Shropshire Council cuts capital spending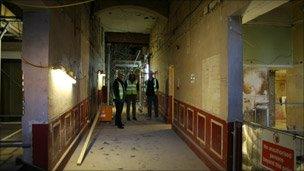 Shropshire Council's cabinet has approved plans to cut almost £40m from the capital spending budget over the next four years.
The £7m refurbishment of the Music Hall in Shrewsbury will continue, but a proposed £3.5m investment in leisure facilities will not go ahead.
Improvements at Shrewsbury Crematorium have been scrapped, as was a proposed £1.2m transport hub at Ludlow.
Plans to spend £1m on Ellesmere Market have also been shelved.
The cabinet, which is made up of Conservative councillors, agreed the cuts on Tuesday afternoon.
Speaking before the meeting, council leader Keith Barrow said the cuts had to be made.
He said: "A lot of the schemes that we are now taking out would be funded by us borrowing money and we can't afford the interest payments.
"It doesn't mean to say those schemes are dead and buried forever. We can still do them, maybe a little bit later down the line."
The Market Drayton inner relief road will go ahead at a cost of more than £1.5m, as will plans to build a £1.25m council depot at Oswestry.
More than £3m will still be spent on the purchase of the bus depot which is part of the Flaxmill Project.
The cabinet agreed that £2m should be invested to improve broadband provision in Shropshire.
Nearly £1m will be available for community projects through the Rural Enterprise Fund.
Alan Mosely, leader of the Labour group on the council, spoke out against the cuts at the meeting.
He said: "The cuts will be devastating and will have a huge impact on people's lives."
Shropshire Area Ramblers were represented at the meeting to protest about £680,000 of cuts to work on rights of way.
Speaking before the meeting the group's chairman, Alison Parker, said there would be future costs in terms of legal fees for failing to meet statutory duties as well as lost revenue from tourism.
"It is worrying to see that bridges on footpaths have been targeted as this potentially jeopardises the safety of all users of rights of way, including horse riders, mountain bikers and dog walkers as well as ramblers," she said.
Related Internet Links
The BBC is not responsible for the content of external sites.