Reconstructed Roman villa unveiled at Wroxeter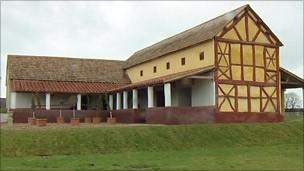 A reconstructed Roman villa has been unveiled in Shropshire.
The site in Wroxeter, once the fourth largest Roman city in Britain, has been the focus of a Channel 4 documentary, called Rome Wasn't Built in a Day.
The series has seen modern-day builders attempt to recreate a Roman villa using traditional tools and techniques.
The completed building has been handed over to English Heritage, which owns the site, and will be open to the public from 19 February.
The villa has been designed by Professor Dai Morgan Evans and is based on a building excavated at Wroxeter.
The city was established in AD58 as a legionary fortress, and thrived for more than 500 years. At its peak it was home to about 15,000 people.
English Heritage staff are leading guided tours around the site on 19 and 20 February.
Related Internet Links
The BBC is not responsible for the content of external sites.