Shropshire's schools are 'stalling', it is claimed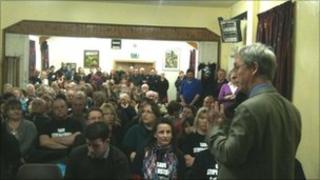 A Shropshire Council officer says Ofsted wrote to the authority to say the county's schools were "stalling".
David Taylor, the council's director of people's services, revealed the letter's existence at a school closure meeting on Wednesday.
He said the government's school inspector also said Shropshire has too many schools rated "satisfactory".
The council says closing nine schools will allow it to cope with less government funding.
It says it receives less money because of falling pupil numbers.
More than 200 people turned out for the meeting about the possible closure of Stiperstones Primary School.
Mr Taylor said he received the letter at the end of 2010.
'Fantastic school'
He said: "I understand how distressing and unsettling these sorts of proposals are for communities.
"I thought people here gave a really good account of their community and were able to set out their arguments in a really well-balanced way.
"I just think they are really difficult decisions to make."
The council is holding a consultation on all the proposed school closures, running until 8 April.
A final decision is expected on 20 July.
Four generations of Carol Evans's family went to Stiperstones School. She said: "It's such a fantastic school and the children just love it.
"It's very important to the community and children get a great standard of education."