Final meeting over Shropshire schools plans is held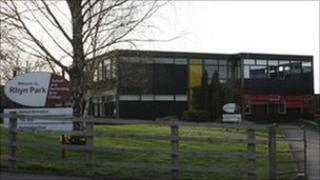 A final public meeting has taken place over plans to overhaul education provision in Shropshire, which include closing nine county schools.
Shropshire Council has proposed combining Rhyn Park school with Ifton Heath primary in St Martins, Oswestry.
A meeting was held at Rhyn Park on Wednesday evening for parents of pupils at both schools.
Consultation on the proposed closures continues until 8 April. A final decision is expected in July.
The proposals include closing one secondary and six primary schools and two amalgamations.
If approved, Ifton Heath primary school would relocate to Rhyn Park secondary to create a campus for children aged from three to 16.
Ifton Heath primary currently has 191 of its 210 places filled but Rhyn Park has 216 unfilled places from a total of 541.
'Built for the job'
The council said it wanted to keep Rhyn Park despite the number of unfilled places because it is "vital" to the rural areas and has had good Ofsted reports.
Parent Gary Richards said he was dubious about the merger.
He said: "I'm not against it when it's designed and built for the job but this is putting a bit of tape here, bodging this, bodging that to try and make it work."
Eevan Nayra, a governor at Rhyn Park, said schools for a wide variety of ages are quite common in his home country, Chile.
He said: "The primary school children benefited from science labs and language labs and learnt the foundations of different topics.
"The learning experience was much enriched."