Historic folly in Shropshire reopens after repairs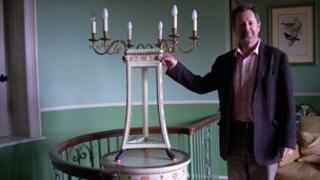 An 18th Century folly in Shropshire has reopened again, several months after being damaged by vandals.
The Temple at Badger, near Telford, is managed by the Vivat Trust, which renovates vulnerable old properties and rents them out as holiday lets.
The lead roof was stripped by thieves in October and brass railings were wrenched out, damaging the stonework.
These have now been replaced by synthetic materials which are worth much less.
The temple was built in 1783 by architect James Wyatt to be used as a tea house.
It was part of Georgian woodland walk, created for the owners of the original Badger Hall, and stands above a series of artificial lakes.
Tim Edwards, the chairman of the Vivat Trust, said he used to play in the roofless ruins of the temple as a child when all that remained were two walls.
He said he recalled searching the rubble for interesting artefacts.
"I never found anything, but when the Vivat Trust did start working on it they found a bit of marble which was taken away to be looked at," he said.
"That brought all works to a halt because the marble turned out to come from about 400BC and it was Greek and it was worth a minor fortune."
It is now in the British Museum, but a plaster cast of the ancient bust remains on display in the temple.
Replicas of design
The temple has been furnished with replicas of James Wyatt's designs, which are on display in the Victoria and Albert Museum in London.
The Vivat Trust raises money from a variety of sources to renovate old buildings. It is then responsible for the building's future upkeep.
Mr Edwards said it was the temple's secluded position which had caused the recent problems.
"It originally had a domed leaded roof and lead of course has gone up in value and there are people out there who want to thieve it," he said.
"That's happened to this building a number of times in the last few years."
He said it had taken several months to repair the damage to the building.
He added: "It's been horrific. It's cost us something like £19,000 to replace it. There is no lead left here any more. It's not worth it...
"I knew this building when it was a ruin. To see it mutilated like this is just terrible."