Royal Irish Regiment soldiers return from Afghan tour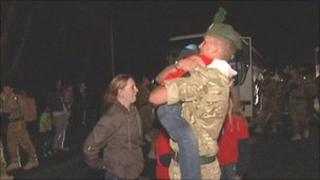 The Shropshire-based 1st Battalion, The Royal Irish Regiment, have begun returning to the UK after almost seven months in Afghanistan.
A contingent of more than 180 soldiers arrived on Sunday night at their base at Tern Hill barracks, near Market Drayton, in north Shropshire.
Three soldiers were killed during the deployment in separate incidents.
Capt Jon Miller said ceremonial parades to mark the homecoming would be held next week.
He said: "I'm really looking forward to when our boys march through Market Drayton and Shrewsbury.
"The level of support our nation is giving our soldiers for the job they're doing in Afghanistan is sometimes humbling."
The three soldiers who died during the tour were Ranger Aaron McCormick, 22, killed by an improvised explosive device (IED) in November 2010; Ranger David Dalzell, 20, killed in February, whose cause of death has not yet been confirmed, and Lance Corporal Stephen McKee, 27, killed by an IED in March.
The battalion was deployed to Afghanistan in September 2010.
It is expected about 300 soldiers and officers will take part in the homecoming parades.