Telford children's double grave is attacked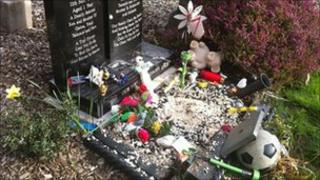 Vandals have attacked a grave in Telford of a nine-year-old boy who died from cancer.
The grave is a memorial to Kyle Beddoes who died in 2009 and Lee Shaw, Kyle's uncle, who died aged one in 1980.
On Saturday a friend of the family found the headstone had been knocked over and toys and flowers scattered.
West Mercia Police said damage put at about £600 was caused to the memorial at Wombridge Cemetery, in Oakengates, and appealed for information.
Tammie Shaw, Kyle's mother and Lee's sister, said Kyle was ill with neuroblastoma for three years before he died.
'Kicked everywhere'
She said: "It was a friend of the family that came down and noticed what had happened.
"I came straight here. Everything was just kicked all over the place.
"The edging stones were kicked everywhere, all the flowers were everywhere and his lanterns and all his little figurines were all kicked everywhere.
"They're not just what we've put down here but they're what his friends have put down here as well."
She said she had been left upset by the attack and had to remove some of the items because they were so badly damaged.