Police officers on Shrewsbury gas explosion rescue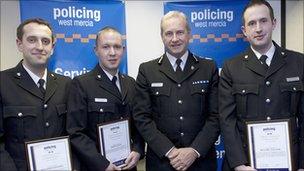 Three police officers have talked about their actions following a gas explosion in Shrewsbury, in January 2010.
The town-centre blast injured 12 people and destroyed a building.
On Tuesday, West Mercia Pcs Simon Lewis, Ben Hocking and Mike Dulson received Chief Constable's commendations for their work.
Describing their rescue of one victim, Pc Lewis said: "There were beds on top of her, joists and all sorts of things, and lots of rubble."
Pc Lewis said the rescue had been prompted by the sight of a hand sticking out of rubble.
"Mike was next to me, assisting me. Ben was next to me with this fire extinguisher trying to fight the flames," he said.
But the flames grew and soon made the rescue difficult, rising to 30ft (9m).
"It got to the part where everybody started shrinking back, because the heat became incredibly intense and the girl was screaming.
"I Just grabbed her by the wrist and pulled, and we got away as quickly as possible," Pc Lewis said.
Sunday 3 January 2010 had started quietly enough.
Pcs Lewis and Hocking were based at the Raven Meadows police station when the explosion happened at 1130 GMT, less than half a mile away.
"We felt our building shake and assumed somebody had reversed a lorry or something into our building," Pc Lewis said.
News on their radios soon revealed that the sound had actually been an explosion on the corner of Bridge Street and Smithfield Road.
A building that had been an empty restaurant with an upstairs flat, now lay in ruins, Pc Lewis said.
Pc Dulson said it was only much later that he realised how dangerous the situation was.
"At the time you don't think. All you think about is trying to help people and save people's lives," he said.
Eight other police officers received territorial commendations for their actions on the day.
Related Internet Links
The BBC is not responsible for the content of external sites.