Petition over Shrewsbury school closure plan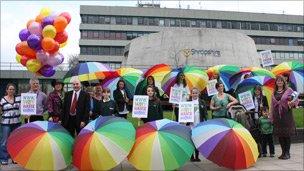 Parents, pupils and teachers fighting to save a secondary school have handed in an 8,000-strong petition to Shropshire Council.
Wakeman School in Shrewsbury, which has seen falling pupil numbers, is the only secondary out of nine in the county under threat of closure.
Children were among those who gathered outside Shirehall in Shrewsbury to hand over a petition.
The council recently insisted closing the school was still only an idea.
It said the authority had come to listen, as a meeting attended by more than 200 people was held last month over the school's future.
The council's delegates explained that Shrewsbury has six secondary schools, but was facing a situation where those schools would have 800 empty spaces.
A consultation on the proposed closures will run until Friday. A final decision is expected in July.
The Wakeman has 329 pupils in a building that can hold 675. But head teacher Karen Moore has said that was because it has long had an uncertain future.
Parent Helen Fletcher said more than 200 names of children under 11 had been listed on a pledge by parents who would like the opportunity for them to go to the school.
There were more than 7,500 names on a paper petition with more online, she added.
"I think it demonstrates popular support and it shows that the Wakeman isn't an unpopular school."
The proposals include closing the Wakeman school as well as six primary schools, and also suggest two amalgamations.
David Taylor, the council's director of people's services, will make a decision on whether to move forward with the proposals. This will be made public on the 27 April.
The cabinet will then decide whether to support his recommendations on 4 May.
Related Internet Links
The BBC is not responsible for the content of external sites.