Royal Irish Regiment welcome Shropshire support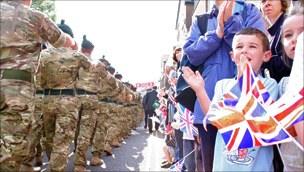 The commanding officer of 1 Royal Irish has said he was surprised and "quite moved" by the number of people cheering troops at a parade in Market Drayton.
Lt Col Weir said: "We all knew there was a great depth of feeling... but the turnout surpassed all expectation."
Thousands of people lined the streets as soldiers' families joined local people to welcome the troops home.
The battalion have returned to their Tern Hill base after almost seven months in Afghanistan.
Northern Ireland Secretary and MP for North Shropshire Owen Paterson joined other well-wishers to pay tribute to the troops.
He described the parade as a chance for local people to "show their gratitude and respect".
"I don't think we've ever had any regiment that's had such an impact locally as the Royal Irish," Mr Paterson added.
For many of the troops it has been an emotional return, reuniting with families and partners.
Sgt Kyle Scott's son Andrew was just just four weeks old when he had to leave for Helmand Province.
He said: "You think about your family and all the things you're going to do when you get there.
"That last couple of minutes when you pull up and see them there, you're so glad to be home."
Cpl Kyle Scott discovered he was going to be a father while on duty in Afghanistan. He said he had been preparing by reading a parenting book.
Related Internet Links
The BBC is not responsible for the content of external sites.