BT and National Grid offer Shrewsbury explosion payout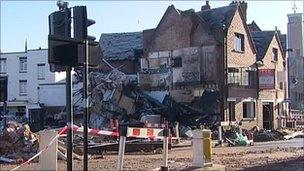 BT and the National Grid have offered to pay compensation to victims of a gas explosion in Shrewsbury.
Twelve people were hurt in the blast which destroyed flats and a restaurant on the corner of Bridge Street in January 2010.
The Health and Safety Executive (HSE) has said no-one can be blamed.
But the two companies said compensation would be paid to 11 victims while the issue of liability was determined, despite the HSE's findings.
In a joint statement, the firms said: "An investigation carried out by the HSE concluded that neither company was responsible for causing the explosion.
"However, the two companies recognise that the victims have suffered considerable hardship and injury and do not want to prolong their suffering.
"Therefore, it has been agreed that compensation will be paid to the victims while the issue of liability is determined.
"Both National Grid and BT will continue to talk to the victims in a bid to reach a satisfactory settlement."
A BT spokesman said 11 of the 12 victims had registered compensation claims.
The HSE said in its report into the explosion that the corrosive nature of the ground soil and pressure from a nearby brick wall and telecoms unit could have caused a fracture in the cast-iron mains pipe.
Six of the 12 hurt in the blast suffered serious injuries.
Some people in the flats were either thrown from the building or buried in debris, and two other people were hit by flying debris.
Last week 11 West Mercia Police officers were given awards for their work in the aftermath of the explosion.
Related Internet Links
The BBC is not responsible for the content of external sites.