Bishop uses sporting comebacks for Easter message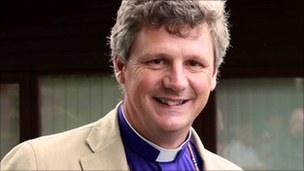 The Anglican Bishop of Shrewsbury has used sporting comebacks to highlight his Easter message.
In a pastoral letter to churches the Right Reverend Mark Rylands describes Jesus as 'The Comeback King'.
The bishop considers the resurrection of Christ alongside events including Manchester United's Champions League final against Bayern Munich in 1999.
Bishop Rylands said: "I like sport myself, and I was just thinking how you get inside the Easter story."
"When Jesus was crucified the disciples thought that was it, he'd failed, it was a complete mess and so I was thinking of some of the sporting events I'd been to where you think 'oh that's it, the game's gone'," he said.
The letter, published in April parish magazines across the Diocese of Lichfield, also refers to England's test match against Australia in Headlingley in 1981.
At one point in the test England looked "dead and buried," until Ian Botham "with amazing belief and confidence" scored 149.
Describing the resurrection of Christ the bishop writes: "He burst out of the tomb to make the biggest comeback of all time."
Asked about his choice of theme, the bishop said there was a need to be imaginative in telling the Easter story, but denied it was "gimmicky".
He said: "It's just about helping people get to the heart of the story... this is the big story, but people have forgotten it, so we just have to find different ways to help people connect into it".
Related Internet Links
The BBC is not responsible for the content of external sites.