Shrewsbury International Cartoon Festival opens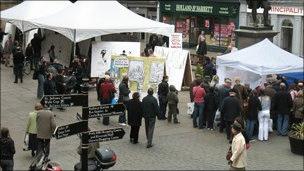 The country's only cartoon festival has been launched in Shrewsbury.
The annual event, which started in 2004, features work by some of the UK's most popular cartoonists, including Giles.
Festival chairman Roger Penwill said the event was run on "a shoestring" and owed its existence to the goodwill of cartoonists and local volunteers.
The festival runs until Saturday and most of the activities and exhibitions are free.
The festival features a sporting theme as it celebrates Shropshire's connections to the modern Olympics.
Games organised by Dr William Penny Brookes in Much Wenlock, during the 19th Century, are widely credited as inspiring the modern Olympic movement.
Mr Penwill said the main focus of the event would be in Shrewsbury's square, where 20 cartoonists will be drawing live on Friday and Saturday.
Ludlow-based cartoonist Mr Penwill said the festival wanted to encourage local people of all ages to express themselves creatively.
Free workshops and family drop-in sessions will be taking place at venues across the town, led by professional artists.
In one of the few non-free events, Peter Schrank, of The Independent, and The Sun's Andy Davey will be talking about the art of political cartoons.
The pair have drawn satirical cartoons on some of the biggest political stories of recent years.
A selection of Peter Schrank's work will also be exhibited at Theatre Severn.
Related Internet Links
The BBC is not responsible for the content of external sites.