Shropshire event riders make national Badminton final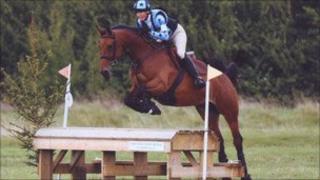 Three amateur riders from Shropshire are taking part in the national final of an eventing competition.
Sharon Ratcliffe, from Morton near Oswestry, Lyndsey Chalmers from Swancote near Bridgnorth and Sarah Warner from Baschurch near Shrewsbury have qualified for the Mitsubishi Motors Grassroots Championship.
The competition starts on Wednesday, during the Badminton International Horse Trials.
Eighty-four riders from across the UK qualified for the final in competitions held over last season.
'Ideal partner'
Training consultant Mrs Ratcliffe, who is 41 and has been riding since she was a child, said she was very excited about her biggest competition to date and described it as "a dream come true".
She has been trying for several years to qualify for the Grassroots final and will be riding her eight-year-old Irish bred mare, Coco.
Mrs Ratcliffe has had Coco for two years and describes her as her ideal partner: "She's very laid back and I'm not, so that works really well because she mostly ignores me when I get hyped up," she said.
Mother-of-two Lyndsey Chalmers, 35, is also making her first appearance at the Grassroots final with her 11-year-old gelding, Swancote Countryman.
The horse, known as Jasper, was bred in Shropshire and was a 30th birthday present from Mrs Chalmers' husband, John.
It is the first time she has been to Badminton as a competitor.
"I used to go every year with the Albrighton Pony Club to watch," she said.
Also competing is Sarah Warner, a 42-year-old riding instructor who runs a livery yard.
She and her horse Zerento VDL whose stable name is Joe, have also qualified for the final for the first time.
She has been eventing since she was 10 years old and is looking forward to the competition.
"Being able to go and ride round Badminton is wonderful," she said.
The first day of the competition focuses on the dressage phase, with show jumping and cross country on Thursday.