Shropshire man ready for World Ploughing Competition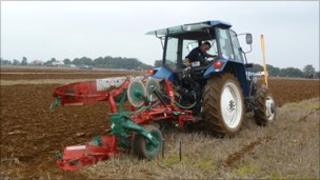 As Britain looks to the Olympics, one south Shropshire man is preparing to represent his country in a very different competition.
Colin Bowen, from Clun, is in training for next month's World Ploughing Competition in Sweden.
About 30 countries will contest the championships from 13 to 14 May.
Mr Bowen, who won the British championships in October, said he would be travelling to Sweden early "to practice on similar soil conditions".
Mr Bowen's Ford New Holland tractor and specially adapted Kverneland plough will also be making the journey.
He will be joined at the event by English team mate John Hill, from Yorkshire, and their coach David Chappell.
Top level
Mr Bowen said: "There's certainly a lot of practice involved to compete at the top level.
"It took me at least three years to get used to the plough and to decide how I wanted to modify it. And it's taken me another three years to get it to plough how I want it."
The competition, this year taking place in East Gothland in the south of Sweden, will attract teams from as far afield as New Zealand and Canada.
England, Wales, Scotland and Northern Ireland will compete as separate teams.
Detailed and strict rules apply to the competition, including the size and depth of furrows, and equipment used. Cameras, GPS devices and "laser beams" are explicitly banned.