Heritage train services to start in Oswestry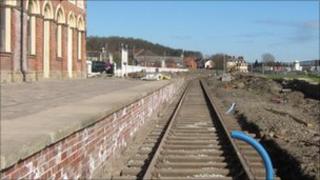 Passenger trains will be running from a station in Shropshire for the first time since 1967 from Good Friday.
The Cambrian Heritage Railways services will operate over half a mile on a restored line from Oswestry station to Middleton Road Bridge.
Passenger services from Oswestry stopped as a part of the Beeching cuts in the 1960s.
Cambrian Heritage Railways is made up of volunteers and assisted by Shropshire Council.
The group said the new heritage rail services represented "a huge step forward" in the eventual aim of seeing trains operating from the main line in Gobowen as far as Llanyblodwel, a distance of 8.5 miles (13.6km).
The platform at Oswestry station had been partly demolished in the 1980s to allow for freight traffic to pass through before freight trains stopped going there in 1988, the group added.
'Hard work'
But passenger trains will now run from the station following a year's work and nearly two years of planning.
The group's chairman, Nigel Davies, said: "Everyone can now come along and enjoy all the hard work that has been on-going almost out of sight behind the station building over the past 12 months or so.
"We are very lucky here to have the experience of an existing operating heritage line at Llynclys and all that experience has helped tremendously."
The success of other heritage lines, such as Severn Valley Railway and Llangollen Railway, was being looked at, as a guide to potential economic benefits for Oswestry.
Mr Davies said: "Llangollen in particular carries some 120,000 paying passengers a year, while the Severn Valley is around the 230,000 mark."
The new services begin from 1100 BST on Good Friday.