Wellington to lobby councillors over town clock return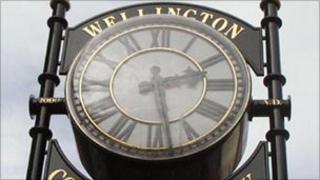 A campaign to demand the reinstatement of the community clock in Wellington is being stepped up.
The protesters are to lobby town councillors before their next meeting on 17 May.
Campaigners were at Wellington Annual Assembly on Tuesday night to voice concerns about the fate of the clock.
Despite objections from local people the clock was removed two weeks ago when work began to repave Market Square.
The meeting endorsed a proposal by local historian George Evans that the clock be replaced in its ordinal position.
Meeting well attended
Peter Jones, from Wellington, who started an online campaign to save the clock, said the assembly had been well attended.
"The meeting room was completely full. People with placards and a lot of people wanting to say 'put our clock back please'," he said.
"We are formulating phase two of our campaign now which will probably involve contacting all councillors to get a commitment on how they intend to vote on this issue of the clock," he added.
Mr Jones said he had asked the town clerk to put the matter on the next council agenda and he intended to speak at the meeting.