Telford and Wrekin regeneration under spotlight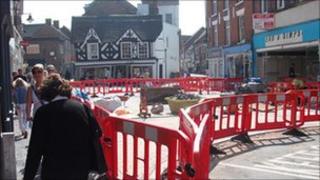 As council elections approach in Telford and Wrekin, the Labour and Conservative parties have clashed over the issue of market town regeneration.
The council covers not only the centre of Telford new town, but also the far more established market towns.
Conservative leader Andrew Eade defended the work the council had done since his party came to power in 2007.
But Keith Austin, Labour leader on the council, has complained that only a few areas have benefited from regeneration.
Mr Austin said: "They're concentrating the money in Wellington, Newport and I don't see a lot happening anywhere else. There's promises of things like in Hadley. There's no money for that."
However, Mr Eade said: "We're spending nearly £18m this year alone on regeneration."
In March the council agreed to allocate £4.2m over the next four years to regeneration in Hadley.
List of Telford and Wrekin candidates
High street
Building work in Wellington town centre started in spring 2010 and is expected to be completed by September.
The work includes a new library, as well as an office development, swimming pool and civic centre.
Work has also recently been completed on Dawley High Street, while smaller scale investment has been injected into Madeley and Oakengates.
Some £51,000 has been allocated to Leegomery, although £1.7m work was completed in the town last year, after being badly damaged in a fire in 2005.
The Telford and Wrekin People's Association party said it was "about time the borough towns were regenerated".
The Liberal Democrats said they broadly supported the regeneration work, but were concerned about the finances and the possible bill to tax payers.