Mother's 'horror' at toddler's River Severn plunge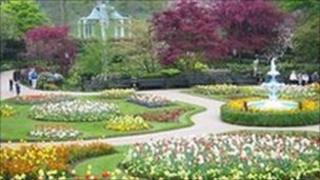 A mother has told of her "horror" at seeing her three-year-old daughter leap into a pushchair and go down a bank into the River Severn in Shropshire.
The woman, who wishes to be known only as Deborah, was packing away a picnic in Shrewsbury Quarry on Thursday when the pushchair rolled passed her.
She had not realised Grace was in the buggy laden with shopping until she saw them plunging into the water.
Deborah dived in to save Grace and both were helped out by other visitors.
'Unimaginable awful thing'
"I turned around just for a moment to shake the grass off the picnic blanket and to my absolute horror my little girl had jumped into her pushchair and the brake obviously hadn't worked."
Deborah, from Telford, said Grace had not been in the buggy when she shook the picnic rug but had climbed into it when her back was turned.
"I just looked on in disbelief and ran down after it but, of course, it was too fast for me to be able to grab hold of it.
"Of course the absolute, most unimaginable and awful thing happened, the pushchair went over the edge and dropped down into the river.
"I looked down and there's my little girl under the water, the bags and the pushchair had gone in as well.
"I couldn't reach her because there's quite a big drop off to the edge of the bank, so I just had to jump in, went over to her, quickly grabbed her from under the water, and the water was so cold.
"It was awful. She was fine. She was worried about what had happened and it was freezing cold."
Wrapped her up
The river is more than 5ft (1.5m) deep at that point. Deborah got Grace to the bank but was unable to lift her out of the water due to the drop.
Other park visitors helped to lift Grace out and wrapped her up in the picnic blanket.
Someone threw Deborah a life-ring and helped pull her out as well. A man called Thomas then dived in to retrieve the pushchair and bags, the mother said.
"He put somebody else and their belongings before himself," she said.
"He was obviously soaking wet and freezing cold. I didn't get the chance to say thank you properly, I was upset at the time, so I just wanted to send this message really, to say thank you so much."
West Midlands Ambulance Service said it had not received any calls about the incident.