Restoration plans for Prees Heath Common WWII airfield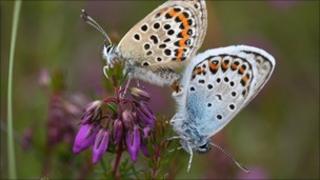 A north Shropshire nature reserve hopes to benefit from lottery funding.
Prees Heath Common, owned by Butterfly Conservation, features a former World War II air traffic control tower and runway.
The tower has been identified for restoration by the Meres and Mosses Landscape Partnership.
The group, led by Shropshire Wildlife Trust, has been set up for five years thanks to a £1.5m Heritage Lottery grant.
With a public consultation under way, plans have been put together to restore the tower to its original camouflage colours and provide signage on site.
Bomber crews
During WWII Prees Heath Common was used as a training base for bomber crews. Following the war it was turned into farmland.
The Butterfly Conservation charity bought a 60-hectare section (148 acres) of the common in 2006 and has returned it to its pre-war state, as heathland.
Today the site is home to a wide range of wildlife, including the silver studded blue butterfly, one of the rarest in the UK.
People are invited to have their say on the plans during the meres and mosses festival in Ellesmere on 15 May.