Restoration plans for Coalbrookdale Arboretum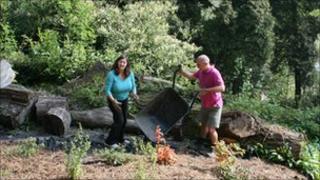 Volunteers restoring a Shropshire arboretum say they want to make it more accessible to the community.
Coalbrookdale Arboretum was created by Abraham Darby's family in the 18th Century, but it has since fallen into disrepair.
For the past two years volunteers have worked to improve the site by clearing paths and undergrowth.
Volunteer Jo Clark said the former landscaped garden had been forgotten.
"The more people know about it, the more people will fall in love with it," she added.
The Friends of the Coalbrookdale Arboretum group was set up in May 2009 to improve public access.
'Secret garden'
A team of volunteers work on the site alongside groups of offenders who help as part of the area's community payback scheme.
Volunteer Lisa Sherwood, said the arboretum was like a "secret garden" when she first moved to the area in the 1990s.
She said: "It was extremely overgrown and hardly anyone came here."
Her husband Lee said: "That's the bit that gives me a buzz, seeing something come alive again."
An old fernery has been re-discovered and archaeological work has taken place at the site of a summerhouse.
Ms Clarke, secretary of the friends, said they have big plans: "We want to put new specimen trees in... we want to get the damson collection up to full strength."
The group is holding its first Damson Day on 30 April to mark the end of its second year.
A grant from the Aggregates Levy Sustainability Fund has paid for a number of events over the past 12 months, including moth nights, bat walks and bulb planting.