Shropshire school closure proposals released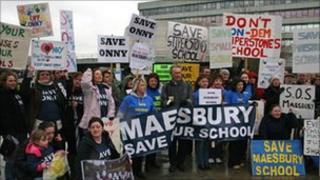 Shropshire Council has released details of its final proposals for the reorganisation of schools.
The plans recommend Wakeman Secondary School in Shrewsbury closes, as well as Barrow, Stiperstones, Maesbury and Hopton Wafers primary schools.
Primary school closures in Lydbury North, Onibury and Ifton Heath will be deferred. Shawbury's two schools still face merger, but it is delayed.
The council's cabinet will meet on 4 May to vote on the recommendations.
David Taylor, director of people's services, said the council was "firm in our proposals" but that it would still consider further suggestions put forward by schools.
A six-week public consultation on the plans, which affect about 800 pupils, ended on 8 April.
Mr Taylor said the council had "genuinely listened" throughout the consultation process.
Further consultation
The council's cabinet will decide on 4 May whether to proceed with the plans or amend them in any way, although this would require the new proposals to return to a public consultation stage.
If the council backs the plans, they will go through an internal scrutiny process and then be subject to further consultation.
A final decision will be made on 20 July. If the plans are implemented, the primary schools will close in July 2012, at the end of the academic year. The Wakeman school would close a year later.
With 329 pupils on roll, the Wakeman is the only secondary school on the list.
A decision on Lydbury North and Onibury primary schools has been deferred to allow them time to put forward detailed plans for federation - a partnership which would allow them to share some resources.
Mr Taylor said he expected those to be in place by the end of June, to allow them to be discussed at the council's meeting on 20 July.
Plans to close Ifton Heath Primary have also been deferred while more detailed research is conducted into turning Rhyn Park into a "through school" for three to 16 year olds.
The council's plan to merge Shawbury Primary and St Mary's Primary is still going ahead, but has been put on hold while it decides on which of the two sites in the village to establish the school.