Missing RAF photographer from Shropshire found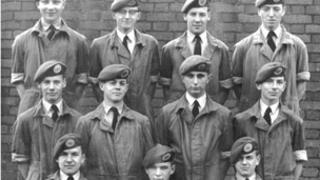 The missing member of an RAF photography course has been found in time for a 50th anniversary class reunion.
Organiser John Lewis and others had spent three years looking for Dudley Ward, who attended the 43rd boy entrant course at RAF Cosford in 1961.
An appeal on BBC Radio Shropshire helped find Mr Ward, who can attend.
Mr Lewis had a call from Jim Ward, a cousin, who was able to contact Mr Ward's brother.
Mr Lewis said Mr Ward was "astounded" by the efforts his colleagues had made to track him down.
All 11 members of the course who were aged 15 or 16 when they joined the RAF have been accounted for.
One died in 2002, but the remaining 10 will be at the reunion at Cosford in June.