Labour wins control of Telford and Wrekin Council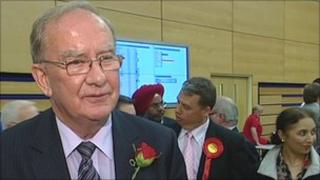 Labour has won control of Telford and Wrekin Council, with a large swing from the Conservatives.
The whole council was up for re-election and Labour gained 16 councillors to hold 33 of the 54 seats.
The Conservatives went from 27 to 17 seats and the Liberal Democrats held on to their three seats. One independent was elected - down from seven.
No single party won control in 2007 and the council was ruled by a minority Conservative administration.
Telford and Wrekin, which was the only council in Shropshire holding an election this year, had been dominated by Labour before 2007.
'Highest praise'
Labour group leader Keith Austin told BBC News he was "over the moon".
"My colleagues have done an excellent task ensuring we've worked hard to turn around ownership of these seats and I think each one of them is well deserved of the highest of praise," he added.
Mark Pritchard, Conservative MP for The Wrekin acknowledged the gain Labour had made.
"Telford and Wrekin has some excellent Conservative councillors.
"They've done huge amounts of good work throughout the borough but clearly locally Labour made advances.
"Having said that, in a lot of wards, the Conservative vote held up."
Voters across Shropshire also took part in the alternative vote referendum, the results of which are expected on Friday.