Shropshire Council backs school closure plans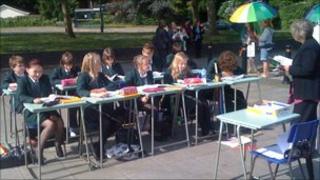 Shropshire Council's cabinet has backed plans to reorganise its schools.
The proposals cover the closure of Wakeman secondary school in Shrewsbury, as well as Barrow, Stiperstones, Maesbury and Hopton Wafers primary schools.
Shawbury's two primaries will be merged onto one site although the location has yet to be decided.
Primary school closures in Lydbury North, Onibury and Ifton Heath have been deferred.
Wakeman School held some classes outside Shire Hall during Wednesday's cabinet meeting to protest against the recommendations.
With 329 pupils on its roll, the Wakeman is the only secondary school on the list.
A six-week public consultation on the plans, which affects about 800 pupils, ended on 8 April.
David Taylor, director of people's services, said the council had "genuinely listened" throughout the consultation process.
Further consultation
A final decision will be made by the council's cabinet on 20 July.
If the plans are implemented, the primary schools will close in August 2012, at the end of the academic year. The Wakeman school would close a year later.
A decision on Lydbury North and Onibury primary schools has been deferred to allow them time to put forward detailed plans for federation status - a partnership which would allow them to share some resources.
Mr Taylor said he expected those to be in place by the end of June, to allow them to be discussed at the council's meeting on 20 July.
Plans to close Ifton Heath Primary have also been deferred while more detailed research is conducted into turning nearby Rhyn Park into a "through school" for three- to 16-year-olds.
The council has also backed plans to create a single primary school in Shawbury, under the governance of St Mary's C of E.
A decision on the location of the merged school has been deferred to allow a feasibility study to be conducted.