Shropshire Show preparations are gathering pace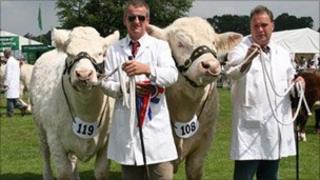 Preparations for the second Shropshire County Show are well underway.
The show date has been brought forward from June to 14 and 15 May and organisers believe this has led to an increase in entries.
The future of the show was in doubt when the West Midlands Agricultural Society ran into financial problems in 2009.
It was saved and renamed the Shropshire County Show after a rescue package was agreed with Shropshire Council.
Show ground manager, Mary Hopkins said she believed moving the show to an earlier date had led to more bookings from trade stand holders.
There was also a calmer atmosphere, she said.
"It's second time around so I've been through the mill once and now I know what I'm doing a bit more," she said.
Neale Sadler is the new chairman of Shropshire County Show and has been a supporter for many years.
"I got involved when I was about 17 on the Young Farmers Show Committee and it sort of grew from there.
"It's something that shows off farming in the county at its very best.
"There's lots of support out there. Tying it all together is the tricky bit," he said.
"It's putting on a show that people want to see and at the same time you've got to keep an eye on the costs because shows like this cost an awful lot of money to put on," he added.
New at this year's show will be the Young Butcher of the Year competition and the New Zealand Sheep Show.