Domesday Reloaded at Blists Hill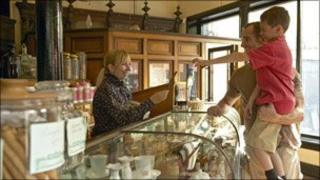 People across the country are being asked to show how their communities have changed over the last 25 years.
More than 1m people took part in the BBC's original Domesday project in 1986.
Now online for the first time, Domesday Reloaded paints a detailed portrait of the UK.
One of the areas which made it on the 1986 map was Blists Hill, a place which has changed very little in the last 25 years, or even in the last century.
1986 was also the year that the Ironbridge Gorge was awarded World Heritage Site (WHS) status by Unesco, the cultural arm of the United Nations.
In doing so it joined an elite list of world-famous structures and areas around the world, such as the Taj Mahal in India and the pyramids of Egypt.
'Historical authenticity'
An entry on the 1986 Domesday project website describes Blists Hill attractions such as the squatter's cottage, toll house and butcher's shop.
All those are still open to visitors, alongside the cast iron works, which was "under construction" in the 1980s.
Chief Executive of the Ironbridge Gorge Museums Trust Steve Miller said Blists Hill continued to offer a "high degree of historical authenticity".
While 1984 visitor numbers are recorded on Domesday as 176,000, last year almost 240,000 people visited Blists Hill.
Millions of pounds has been spent over the last 25 years developing the museum. Last year it made it through to the final of the Art Fund Prize, one of the biggest competitions for UK museums and galleries.