Wellington clock to return after 'unanimous vote'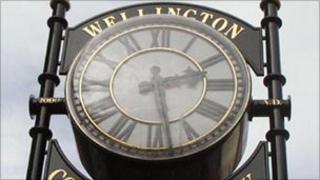 The community clock in the Shropshire town of Wellington is to return to its Market Square home after a campaign.
The clock was removed by the council when work to re-pave the square was begun. The authority then planned to move it near the town's civic quarter.
However, it changed its plans following the campaign, which involved a petition with nearly 6,000 signatures.
Put up as part of the Millennium celebrations, the clock cost £10,000 and was partly paid for by the public.
Wellington resident Peter Jones said the decision was made following a vote at a town council meeting on 17 May.
Mr Jones, the co-ordinator of the Tick Tock campaign, added: "We had a unanimous vote that the clock's going back in Wellington."
Earlier this month, the new Labour administration on Telford and Wrekin Council backed the campaign.
The petition, which had 5,735 signatures demanding the return of the clock, was also put to Wellington Town Council.
Mr Jones said Councillor Angela McClemments assured those present at the meeting that the council would find the cost of replacing the clock from the budget.
Another campaigner, Sue Purcell, said she was "glad to see the councillors finally decided to listen to the will of the people who elected them".