GB Archers get a taste of Olympics atmosphere at Lilleshall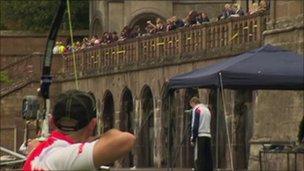 Team GB archers were subjected to a barrage of noise from schoolchildren while they practised at Lilleshall in Shropshire for the 2012 Olympics .
The idea was to simulate the possible noisy atmosphere competitors would face from a crowd during the real Games.
Team GB programme manager, Ceri-Ann Davies, said it was important the archers gained a sense of the pressure they would be put under.
The Olympic archery is being held at Lords Cricket Ground in London.
Ms Davies said it was also important to get the local community involved in what was happening at Lilleshall.
"We are one of the only British programmes that's based in this part of the country so we want this end of the country to get behind us," she said.
Alison Williamson, from Church Stretton in Shropshire, won bronze in the archery at the Athens Games in 2004.
She said noise was a problem as sometimes spectators were unfamiliar with when they needed to be quiet.
"It's like golf or tennis. You know at Wimbledon you wouldn't be cheering when the player is about to serve. It's similar in archery," she said.
"When the archer is at full draw, that is a time when normally archery people would know to be quiet.
"A crowd that's never seen the sport before, that's the time for them to get really excited."
The London 2012 Olympics will be the third Games for team member Larry Godfrey. He thinks Team GB has a good chance of success.
"The training facilities we've got here have been getting better and better due to the good lottery funding and support we've had. It's going well at the moment," he said.
Mr Godfrey added that he felt able to cope with the pressure.
"I think that comes with experience. You've got to have a specific mindset to step out on your first occasion and be totally calm," he said.
Five schools turned out to make a noise for the athletes - Crudgington, near Telford, John Randall at Madeley, Sutherland School at Trench, Burton Borough from Newport and the Abraham Darby Academy at Madeley.
Steph Kelly, performance co-ordinator for GB Archery, said she was grateful to the 200 schoolchildren for coming at such short notice.
"Obviously we are going to have lots of crowds in 2012 making noise and trying to put the archers off. We want them to get used to shooting with lots of noise," she said.
She added that there would be more opportunities for schools to come along to Lilleshall and watch the archers train and make a noise.
Related Internet Links
The BBC is not responsible for the content of external sites.