Telford and Wrekin Council's 100-day plan to set budget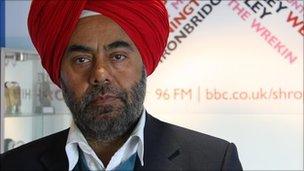 Telford and Wrekin's new Labour council officially took charge on Friday.
After winning the local election on 6 May, the party said it would take 100 days to go over the council's accounts before deciding what course to take.
Friday, 27 May marks day one. At stake is the continuing regeneration of market towns and a need to save £35m over the next four years.
New council leader Kuldip Sahota said the focus would be on jobs and front-line services.
With savings of 20% to be made, Mr Sahota said it would be a "quite daunting task".
"We will do our best, but I've got to be honest with everyone that there will be some job losses and some front-line services [cut]," Mr Sahota added.
The council needs to make £20m of savings within next year's budget alone.
One element that could be cut, or at least rescheduled, is the continuing regeneration of the borough's market towns.
Speaking before the May election the previous Conservative council leader, Andrew Eade, said £18m was being spent this year on regeneration.
Some work has already been completed in Dawley, Wellington and Newport. A further £4.2m has been allocated for Hadley over four years.
Money for schools, including a replacement for Dawley's Phoenix School, has come from central government.
All other regeneration work has to be funded by Telford and Wrekin's own budget.
Mr Sahota said that while 100 days might seem a long time, and time was in short supply, there was also a need to get the budget "spot on" to minimise the pain.
Related Internet Links
The BBC is not responsible for the content of external sites.