New Archdeacon of Salop installed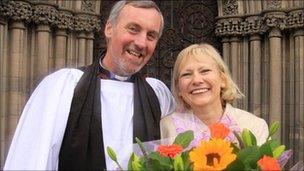 A former vicar from Stafford has been installed as the new Archdeacon of Salop in Shropshire.
The Venerable Paul Thomas takes charge of about 200 clergy and lay ministers at 150 churches in the Shropshire part of the Lichfield Diocese.
Mr Thomas will work closely with the Bishop of Shrewsbury, Mark Rylands.
During a service at Lichfield Cathedral on Sunday the Bishop of Lichfield, Jonathan Gledhill, described the role as "the eyes and ears" of a bishop.
Archdeacons are senior clergy within the Church of England and there are four in the Diocese of Lichfield.
Mr Thomas will be responsible for the legal, administrative and pastoral support of Anglican churches in Telford, Shrewsbury and north Shropshire.
Bishop Gledhill said historically the archdeacon's role related primarily to the property side of churches.
He said today archdeacons still know about buildings and the law, but the job also includes the pastoral care of churches and their clergy.
Unlike recent Archdeacons of Salop, Mr Thomas will not take on the role of Vicar of Tong, although he will live at Tong Vicarage.
Related Internet Links
The BBC is not responsible for the content of external sites.