Dutch police visit Oswestry to combat GHB spread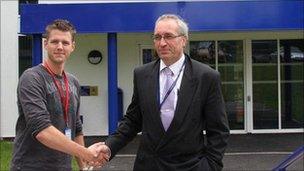 A Dutch police officer has visited Shropshire to help West Mercia officers combat the spread of the drug GHB.
Det Ch Insp Alan Edwards said he was "over the moon" that Arjen Wakker had visited to share his expertise.
Police said Oswestry had become a hotspot for the manufacture and use of GHB.
More than 100 officers were involved in a series of raids in the county in April, in which "kitchen laboratories" were targeted.
Mr Edwards said: "I know I'm never going to arrest myself out of this situation. What I'm trying to do is find people and divert them away from this drug."
Mr Wakker said he had also learnt a lot from the way British police dealt with the drug.
"The UK is having a pretty effective method at targeting the GHB problem and I wanted to see what we can take back to the Netherlands and use," he said.
Mr Wakker added that while the classification of the drug differed slightly between the two countries, its effects were equally damaging.
He said the number of people needing hospital treatment after using GHB in the Netherlands had risen 400%, between 2004 and 2009.
GHB, sometimes called liquid ecstasy, and the associated GBL are both classified as Class-C drugs in the UK.
Supply or possession of either drug can result in a jail sentence.
Related Internet Links
The BBC is not responsible for the content of external sites.