Soldiers swap bomb disposal for fly fishing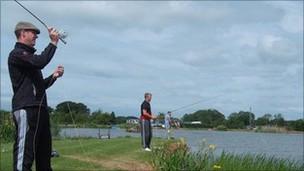 Army bomb disposal troops have been in Shropshire trying to come to terms with some of their recent experiences in Afghanistan - by fishing.
As a contrast to the pressure of a six-month tour, members of 61 Field Unit have been learning how to fly fish at Ellerdine Lakes, near Wellington.
The visit was organised by the charity Fishing For Heroes, founded by former soldier Capt Tony Spacey in 2009.
The charity offers fly fishing as a form of therapy.
Many veterans suffer symptoms that have come to be associated with post-traumatic stress disorder.
Capt Spacey said he set up the charity after a visit from a widow of one of his soldiers, who had committed suicide.
He said: "I later discovered I'd lost 13 of my guys by suicide since we'd last seen action together."
Squadron Sergeant Major Jamie Thomas said the day had been a welcome experience for the unit, part of 33 Engineer Regiment, based at Woodbridge in Suffolk.
He said: "We took some heavy casualties, particularly early on in the tour and from that the guys who are here today went through a number of traumatic experiences."
During the six-month tour to Afghanistan, the unit's duties included the search for and destruction of Improvised Explosive Devices (IEDs).
Sapper Toby Ecclestone said bomb disposal was a stressful job and not only because of the obvious dangers.
"We're high assurance. If we say a route's clear, the weight's off everyone else's shoulders. And that's quite a big pressure," he said.
The sapper said his six-man section had suffered heavy casualties.
"We lost our team commander, he died, and our troop commander, he lost both legs."
Sqn Sgt Maj Thomas said: "Part of today is giving them the opportunity to step out of the military bubble... and add a little normality to what was a complicated period of their life."
Related Internet Links
The BBC is not responsible for the content of external sites.