Lydbury North and Onny schools release federation plans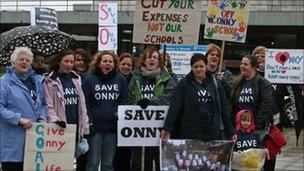 Two Shropshire schools threatened with closure have put forward plans that they hope will secure their futures.
Onny and Lydbury North primaries have launched a six-week consultation that could see them enter a "hard federation".
The plans include sharing a governing body, a head teacher, as well as expertise and other resources.
A final decision will be made by Shropshire Council's cabinet on 20 July.
Nikki Pugh, chair of governors at Lydbury North Primary, said there would be "huge educational benefits" as well as a chance to make savings.
Ms Pugh said: "Primary schools are at the heart of their communities. They're really valuable to the people living in villages.
"It's not just people with children at the school, it provides a focal point. For example, we run adult education classes in the evening."
The Venerable Colin Williams, chair of governors at Onny School, said people had worked "extremely hard to keep the schools open and at the heart of their communities".
Ms Pugh said that while the federation could save "several thousand pounds," the main benefits would be educational.
She described the plans as "really exciting...a new way of working".
In March, David Taylor, the council's director of people's services, said Ofsted had expressed their concern about the number of "stalling" schools in the county.
Last year, both Onny and Lydbury North schools were rated by Ofsted as "satisfactory".
Ms Pugh said the schools, just 10 miles apart, could share specialist skills, teaching practices and forest school sites.
She said she was cautiously optimistic about the cabinet group backing the plans on 20 July.
"Early indications are that they are very supportive of the proposals," she said. "Shropshire Council officers are working with us.
"We want as many views as possible on what the federation would mean to the wider community."
In February, Onny and Lydbury North were among eight primary schools and one secondary earmarked for closure by Shropshire Council.
A meeting of the council's cabinet on 4 May allowed the schools more time to work on firm proposals for federation.
If successful the schools could be officially federated on 1 January 2012.
Related Internet Links
The BBC is not responsible for the content of external sites.