Express & Star and Shropshire Star to axe 61 jobs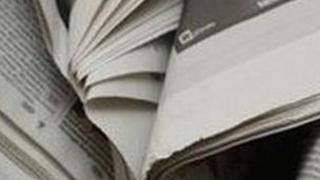 Sixty one jobs are to go at the Express & Star and Shropshire Star newspapers, publisher Midland News Association (MNA) has told staff.
It was announced in April the firm had entered into redundancy consultations with staff.
Meetings were held with members of the staff councils at both newspapers and letters went out to employees.
The firm has told staff it has accepted 41 voluntary redundancies, but is still looking to cut another 20 jobs.
In minutes from a meeting with workers, seen by the BBC, the company is said to have stated there would be compulsory redundancies.
Heads of all departments are understood to have been asked to look at where they can cut jobs.
If more people come forward seeking voluntary redundancy, the number of compulsory redundancies may change staff have been told.
In April one staff member, who did not wish to be named, said staff had been told the company aimed to shed about 10% of its workforce - about 90 jobs.
In a statement at the time MNA managing director Alan Harris said the company was facing "very difficult trading conditions".
Nobody from the company was available to comment on the latest news about job cuts on Tuesday.
Chris Morley, National Union of Journalists (NUJ) Northern and Midlands organiser, confirmed what staff had been told.
'Spiral of decline'
He said: "The staff reps have been told that there have been a number of volunteers who have come forward for redundancy, however that still is way short of the company target for overall job losses.
"The company has said it wants to make these cuts across all departments so that would include journalists too.
"As a union we're extremely concerned that this will lead to irreparable damage to the journalistic content of newspapers that could lead to a spiral of decline."
He said the union would do everything it could to ensure its members were not made compulsorily redundant.
He said members of the union would meet on Wednesday evening to decide how to respond to the cuts.
The Wolverhampton-based Express & Star is the UK's biggest-selling regional daily.
Alongside the two daily titles, MNA publishes a number of free and paid for weekly newspapers across the West Midlands, Shropshire and Mid Wales.