Shrewsbury road to open in time for Elton John concert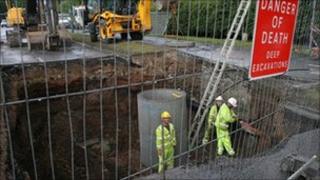 A Shropshire road is expected to reopen in time for a high profile concert.
Hazledine Way, in Shrewsbury, was closed on Sunday after a 12m (39ft) deep hole, thought to be a historic well, opened under the pavement.
Shropshire Council said the shaft would be topped with concrete on Thursday, in time for the road to reopen on Saturday evening.
About 16,000 people are expected at a concert by Sir Elton John at the nearby Greenhous Meadow stadium on Sunday.
Tim Sneddon, head of environmental maintenance at Shropshire Council, said it would cause "headaches" if the road could not be opened in time for the event.
More than 1,500 parking spaces have been allocated in the area for concert goers, with many other vehicles expected to access official drop-off zones.
'Emergency situation'
The road is closed eastbound between the Meole Brace roundabout and Pritchard Way. Diversions are in place.
Access westbound along Hazledine Way, towards Meole Brace roundabout from Pritchard Way, remains unaffected.
Archaeologist Dr Andy Wigley said the collapse had probably occurred due to recent changes in the water table, caused by a particularly dry spring.
Dr Wigley said: "Obviously it's an emergency situation. It would have been fantastic to have an opportunity to investigate it fully.
"The well would have been used to service cottages and farm buildings in the area... used for domestic purposes probably."
Mr Sneddon said county archaeologists would be looking through archive material to try to find references of the well.