Owen Paterson MP joins Mongol Derby challenge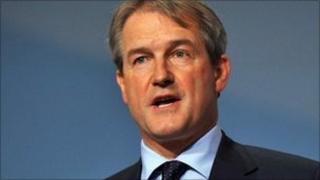 Northern Ireland Secretary Owen Paterson has said he will spend part of the summer racing on horseback across the steppes of Mongolia.
The north Shropshire MP will be taking part in the Mongol Derby with his wife Rose in August, during parliament's summer recess.
The couple will try to cover 1,000km (621 miles) in 10 days, as they follow in the footsteps of Genghis Khan.
Mr Paterson said it would be a once-in-a-lifetime opportunity.
The MP, who is a keen horse rider, said he needed to improve his fitness and lose "about a stone" before taking part in the charity event.
Competitors are limited to 85kg in full riding kit, plus a maximum of 5kg overnight equipment.
The riders will cover about 60 miles a day, using GPS navigation equipment, and swap horses every 25 to 30 miles.
"They [security personnel] can't come. I don't think anyone who has nasty intentions can follow me, because I don't know where we'll be going," Mr Paterson said.
'Fermented mare's milk'
The route will broadly imitate Genghis Khan's pony express system, which allowed the Mongol ruler to maintain communication across large areas of his empire.
Mr Paterson said: "It's going to be quite rough. In 10 days the only place we get to wash is when we cross a river.
"Food is going to be quite tough. It's going to be mutton stew and something called koomis, which I understand is fermented mare's milk."
Mr Paterson, who said he had been riding since the age of three or four, and his wife will be raising money for three charities - the Royal Irish Regiment Benevolent Fund, the Midland Centre for Spinal Injuries, and Mercy Corps Mongolia.
First battalion Royal Irish Regiment is currently based at Tern Hill, in the MP's north Shropshire constituency.
The regiment suffered three losses and 16 injuries during a recent tour of Afghanistan.