Ifton Heath parents and pupils march against merger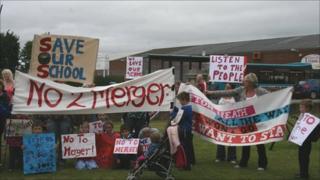 Parents and pupils from a Shropshire primary school have staged a protest march against plans to merge it with a county secondary school.
Shropshire Council is considering merging Ifton Heath Primary School, near Oswestry, with Rhyn Park Secondary School to save money.
As well as being worried about the possible merger, protesters fear the route to school would be dangerous.
The council said the decision was taken after talks with both schools.
To highlight their concerns the parents held a walk between the two schools before the school day began on Wednesday.
'Ludicrous merger idea'
Gary Smith, a parent and governor at Ifton Heath Primary School, said: "[Shropshire Council's] Cabinet is not just attempting to close a good school with sound numbers, results and finances, it is reliant on pupils moving to Rhyn Park.
"The council has deferred a decision in order to explore further detail on the ludicrous merger idea.
"Major road and pavement works and possibly also a rear access route would be required to make travel safe. All at great expense to the public purse."
He said 225 primary and nursery children along with their parents would have to attempt to reach Rhyn Park in a safe fashion.
Shropshire Council's school proposals cover the closure of Wakeman secondary school in Shrewsbury, as well as Barrow, Stiperstones, Maesbury and Hopton Wafers primary schools.
Shawbury's two primaries will be merged on to one site although the location has yet to be decided.
Primary school closures in Lydbury North and Onibury along with Ifton Heath have been deferred.
A final decision will be made by the council's cabinet on 20 July.
If the plans are implemented, the primary schools will close in August 2012, at the end of the academic year. The Wakeman school would close a year later.
Karen Bradshaw, the council's group manager for learning and skills, said more work was being undertaken to look at the proposal, including routes to school.
"Shropshire Council safer routes to school transport planners, a road safety officer and engineer have recently assessed the safety of the pedestrian routes to school in St Martins, including potential routes to be taken to the proposed all-through school.
"The report concluded that there are no major safety concerns."