Shropshire bees settle into their new transparent hive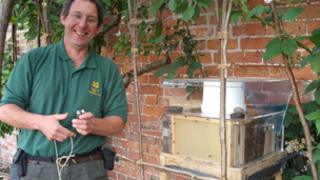 A transparent hive has been developed at Attingham Park in Shropshire so that visitors can watch the bees.
The National Trust property near Shrewsbury was awarded a £3,000 climate change grant by Shropshire Council to pay for a weather station and the bee hive.
The first group of insects can be seen taking care of their queen, building wax cells for eggs and making honey.
The hive is home to more than 10,000 bees.
Bob Thurston is property manager at Attingham and was involved in designing and building the Perspex structure.
The bees enter and leave through a hole in the brick wall which forms the back of the hive to prevent any contact between them and public.
"For all of us, beekeepers included, having bees flying round your head if you're not a in a bee suit is a bad thing," Mr Thurston said.
The 45.7cm x 30.5cm (18" x 12") hive is an exact replica of an ordinary beehive, except that visitors can see what is happening inside.
Mr Thurston said there had been a few problems when the bees first moved in.
They were used to living in the dark and banged their heads on the wall as they tried to go from the clear tube to the exit hole in the wall.
"We had to cover up a big block of acrylic and then finally by 6pm on the first day they were in here the first bee made it out to the other side of the wall," he said.