Fire service partnership seeks government support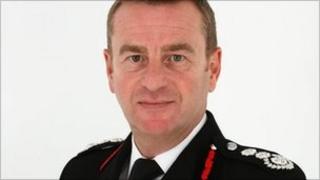 Fire authorities in Shropshire and Hereford and Worcester have said they are looking for government support to help them enter a partnership.
The deal would see the two services share control room operations during particularly busy periods.
Shropshire Chief Fire Officer Paul Raymond said the link between Shrewsbury and Worcester would cost about £50,000 to set up.
The move follows the collapse of the national Firecontrol project.
Nine linked regional control centres were due to start operating in 2007.
A series of delays eventually led to the government cancelling the project in December 2010.
Mr Raymond said: "It left us with a very ageing mobilisation system. So we've had to go out and purchase a new system.
"Fortunately Hereford and Worcester have bought the same system, so the opportunity's there now to get some resilience."
Local control rooms
Mr Raymond said the £50,000 set-up costs should not be funded purely by local taxpayers.
"We haven't asked for this," he said. "We've inherited this situation where we've got a very old system. So we're asking government to help us out."
The partnership would allow both services to maintain local control rooms in Shrewsbury and Worcester, while providing support for each other during peak periods.
"You would dial 999, you would go through to a control room operator, who would happen to be in Worcester," he said.
"They would take your information and they would be able to mobilse the nearest appliance in Shropshire to you.
"Sometimes we will have 70, 80, 100 calls in a minute and what we need to do is have that resilience.
"We don't want people waiting when they're dialling 999."